Founded in 1999 through the efforts of our first Grand Knight, Bob Hamer, the Council is one of several Holy Trinity Ministries working closely with Holy Trinity Parish, the Parish school, and the local El Dorado County community providing funds and manpower for numerous charitable programs. We serve in each of the four pillars of our parish: hospitality, prayer, formation, and service to advance our parish mission: To proclaim the Gospel so that all will be one in Christ for the glory of God.
The Council has received many awards and accolades from both local and state associations for these efforts.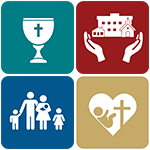 Faith in Action. Here are some of the things that our Council does: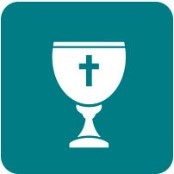 Faith
Knights participate as Extraordinary Ministers of Holy Communion including ministry to the homebound, Sacristans, music, and Lectors
RSVP program – supporting seminarians
Christmas and Easter Parking volunteers
Chalice program for deceased Knights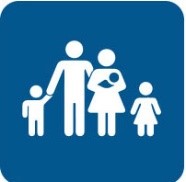 Family
Major donor – Holy Trinity Youth Ministry
Basketball Free Throw Contest
Poster & Essay Contests
Father's Day BBQ
Mother's Day Brunch
8th Grade Graduation Dinner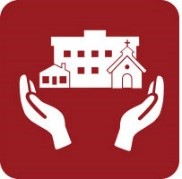 Community
Drive to Help People with Intellectual Disabilities
Welcome breakfasts at the request of the Parish
Columbus Day spaghetti feed
Our Lady of Guadalupe feast
Thanksgiving turkey drive
Easter ham drive
Other service projects as needed whenever our parish or priests ask
Lenten Fish Fry / soup dinner
Host chapter meetings when requested
Support Eagle Scout projects
Host Blood Drives Vitalant each year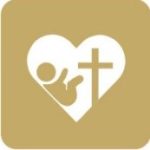 Life
Breakfast for Walk for Life
Rose Sales
Golf Tournament for Mother Teresa Maternity Home
Table sponsorship at Mother Teresa Maternity Home Banquet
Memorial for unborn
Man table for SB 360 bill protest action
Required Safe Environment Training
All Council members who wish to volunteer at Holy Trinity Parish must complete Safe Haven training every three years (offered through the Diocese of Sacramento) and also be fingerprinted.
Link to PDF instructions on how to register in CMG connect to take Safe Haven Training
General link to the Safe Environment page at the Diocese website. Note: information is available on that page on fingerprinting locations. Members of Holy Trinity Knights Council 12394 will be reimbursed the expense (approx. $20) for fingerprinting. Submit receipt during regular business meeting.
Live Scan Location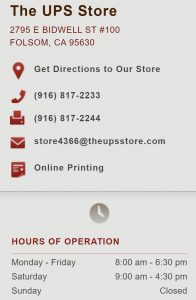 One of the main locations locally to get your fingerprint/Live Scan taken care of is at the UPS Store in Folsom.
What Should I Bring To Your Live Scan Center?
> A completed Request for Live Scan Service Form.
> A valid government-issued picture ID, such as a driver's license or passport. An expired ID is considered not valid.
> Payment in the form of exact cash, check (personal or company), or credit card.
Past Grand Knights
| | | |
| --- | --- | --- |
| Bob | Hamer | 1999-2000 |
| Ralph | Walsh | 2001 |
| Jerry | Fischer | 2002 |
| Harry | Therkelsen | 2003 |
| Tom | Adams | 2004 |
| Bob | Drewit | 2005 |
| Gene | Savage | 2006 |
| Jeff | Wall | 2007 |
| Ed | Lewandowski | 2008 |
| Tom | Waller | 2009 |
| Jorge | Avila | 2010 |
| Gene | Coco | 2011 |
| Dan | Haverty | 2012-2013 |
| Art | Aguilar | 2014-2016 |
| Ken | Daneli | 2016-2017 |
| Brian | McLaughlin | 2017-2019 |
Council Awards
1998-1999          Fr. McGivney Membership and Founders' Insurance Award
1999-2000          Star Council Award
1999-2000          2nd Place Best Membership Activities Division 1, State Council
2000-2001          Star Council Award
2002-2003          Star Council Award
2003-2004          Star Council Award
2003-2004          1st Place Membership Award Division 3, State Council
2004-2005          Star Council Award
2004-2005          1st Place Membership Award, Division 3, State Council
2005-2006          Fr. McGivney Membership and Columbian Award Service Programs
2009-2010          1st Place Chapter Recruitment Northern California Chapter
2009-2010          Fr. McGivney Membership and Founders' Insurance Award
2013-2014          Fr. McGivney Membership and Columbian Award Service Programs