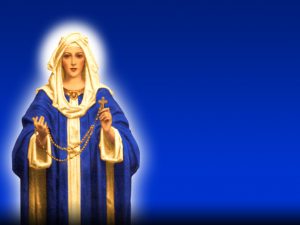 Pray the Rosary
---
The Knights of Columbus are consecrated to the Blessed Virgin Mary. The Order fosters devotion to Our Lady and, in particular, encourages its members and their families to pray the rosary as often as possible.
The Rosary is a form of vocal and mental prayer divided into decades. The recitation of each decade is accompanied by meditation on one of the "mysteries" or events in the lives of Jesus and Mary. While the whole Rosary is composed of twenty decades, it is customary to recite five decades at a time while meditating on one set of mysteries.
The Art of Family Prayer
Excerpted from the eponymous article by Robert Alzapiedi in Columbia Magazine Online
---
"The family that prays together stays together."
Popularized in the 1950s by Holy Cross Father Patrick Peyton, a Knight of Columbus, this famous slogan is still relevant and applicable today. For many families, though, saying grace before a holiday meal or attending Mass on Sunday may be their only experience with family prayer. Changing family habits and behaviors can be uncomfortable, especially if parents don't have a model to follow.
If we are not praying with our families, it is often a case of not knowing where and how to begin, or not having the tools and materials to lead our families in prayer. Fathers can be very private about praying, particularly as we share our weaknesses and concerns with God. Often, we want to be strong for our families and diminish any of their concerns about our struggles.
However, just as we grow in peace through regular private prayer, that same peace and positive spirit can unite a family that prays together. When families come together to pray and share their joys and struggles, they become unified in the petitions they put before God. Family prayer can bring a peace and closeness like no other experience. Sharing personal prayer intentions builds trust and allows family members to stand together in confidence before God…
The family rosary is … a way for families to reflect on their day and to help children see how they can model their lives after Jesus and Mary. As the mysteries are prayed, the children can share how they lived the mysteries in their day. Did I say "Yes" to God today as Mary did in the Annunciation? When visiting with family and friends today, was I as attentive to them as Mary was to her cousin Elizabeth? In this way, the family rosary can help our prayer come alive as we see how we are living the mysteries of the rosary every day.
---
Here is a guide from Knights of Columbus on How to pray the Rosary